A dining room is a place where family, and friends vacation, share birthdays, and have breakfast. Sitting here many times stories and laughter are exchanged. Do you have such a dream dining room? But you don't find peace there. It needs some valuable ideas to make it perfect. Let's know how to decorate a round dining table.
It needs to be perfect for your dining room table to have a pleasant peaceful place for everyday meals as well as formal dining occasions. It is important to know How to decorate it Well. Round Systems are very difficult to tackle, But if you get the right idea, You can arrange them very easily. So you need to have a good idea about shapes and color combinations. Besides, a dining with a table scape, flowers in vases, bowls with tablecloths, and runners, decorate yours with confidence.
What Is A Round Dining Table?
Round tables are generally shorter than rectangular tables. By placing the center of the it up, the area that would normally have legs becomes an open space that can be filled with additional furniture. You can add chairs around it or place them along the edges. However, These items may include flatware sets and dinner plates, serving dishes, trays, bowls, planters, vases, jars, baskets, and picture frames. If you want to create a small space or a cozy atmosphere in a room, use a round system.
Here are 22 effective ways or tips for decorating a round dining table
1. Placemats For Round Tables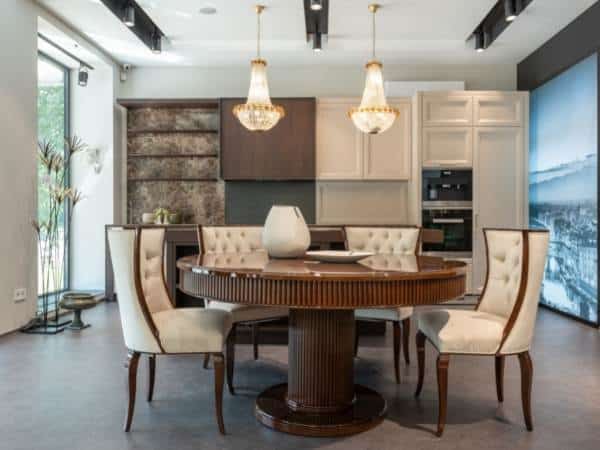 First of all, choose a placemat for a round table. Therefore, The thing to consider for this is the shape. Best round table for placemats. Otherwise, they overlap each other which causes problems due to shape.
2. Tablecloth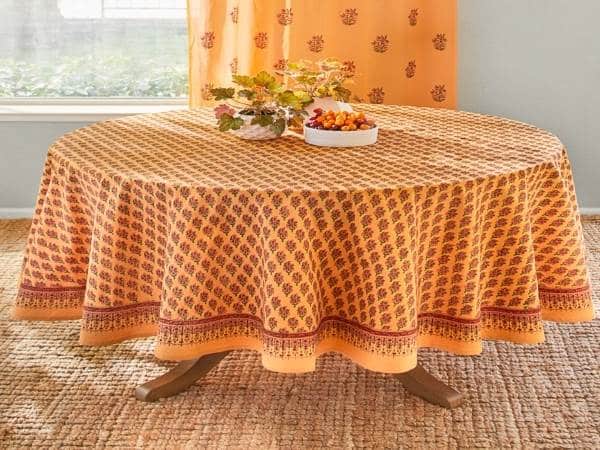 Place the tablecloth on your things first. So if you want to decorate a table, the cloth is the first thing. Those who have a nice wooden table may not use it. But in my opinion, it is good to use, and to decorate a round dining table. Because they are very easy to clean. Besides, it also protects the surface of one so it lasts longer.
3. Place A Flower Vase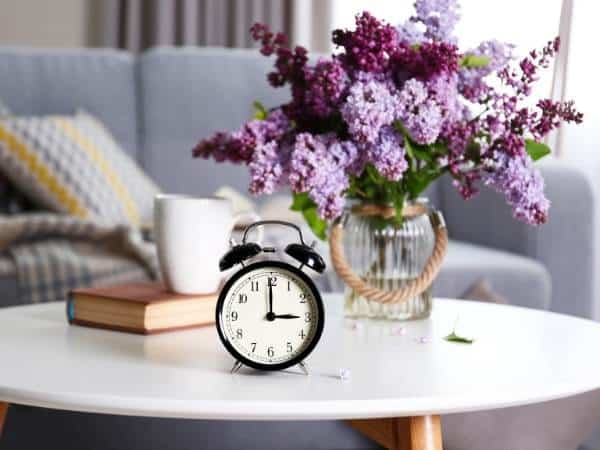 A pot of flowers is in the middle of the tabletop. Different colored flowers are ideal for wedding receptions, as they add a fresh scent and energetic look to a venue.
It makes your living space feel special and you need it. If you can put plants or flowers on the swap things. Changing places is easy with change.
Flowers and vases add style and color to the decor. Which can instantly brighten up a dining table.
4. Spice Things Up With A Table Runner
A great result is obtained by using a simple table. It adds also a layer of decor at a great rate. These layers create a lot of dimension on the surface and make a difference for the guests, giving them some eye candy. There are several ways to decorate a round dining table. Add layers to your dining one. One way is to place it runner with opposite ends draped over the side. Remember that a table runner is a versatile decoration. Through these, you will gain casualness, delicacy, grace or elegance, etc. What you prefer is up to you. So, You will find A wide range Of designs And materials to choose from.
5. Use Candles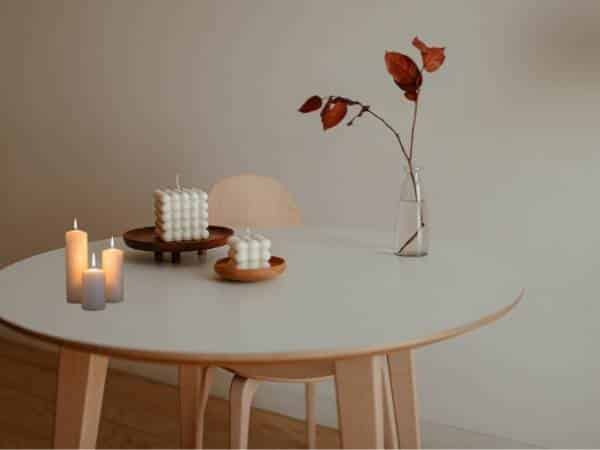 Use a small vase or two on top of a circular mirror, as well as some candles. If possible, Place these items on either Side Of the center Of the table. You may consider using a candle holder that matches the color scheme of the room.
One of the ways is to use pillar candles to bring the centerpiece. They are warm and welcoming and look great throughout the room. It also creates an elegant atmosphere for guests, making them perfect for dinner parties and holiday celebrations.
6. Keep Bowl With Fruit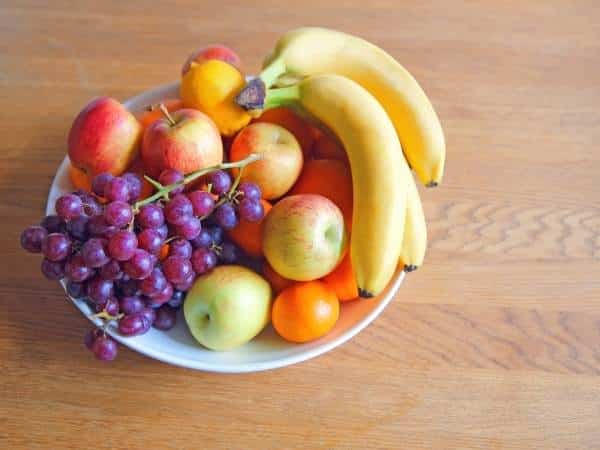 A popular Way is to place a small bowl in the center Of the table And place a variety of fruits in it. Such as apple, orange, banana, grape, gooseberry, litchi, etc. Basically, you have to make an arrangement of different types of fruits. You can also put different fruits on your lamp at different times according to your need. This is great to decorate it system., a quick, easy, and effective way to decorate a round table.
7. A Woven Basket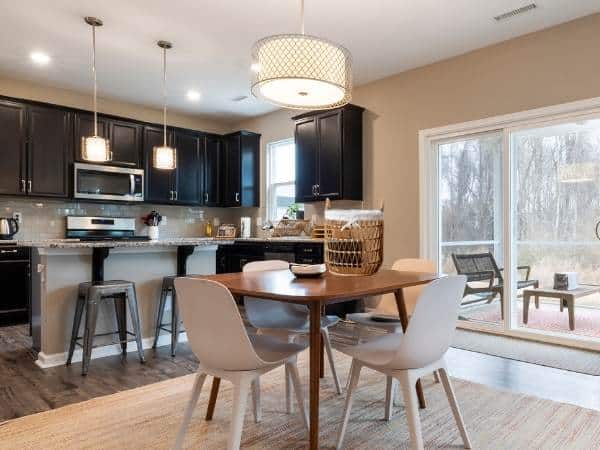 If you want to keep multiple items together and have a small display, use a woven basket or tray. Such as a few candles, a small flower vase, various fruits, etc. Put everything in A basket that can be used to decorate it. A woven basket always makes the table neat and presentable. The result will make to decorate a round dining table. your living space more inviting as well as pleasant.
8. The Center Of Fun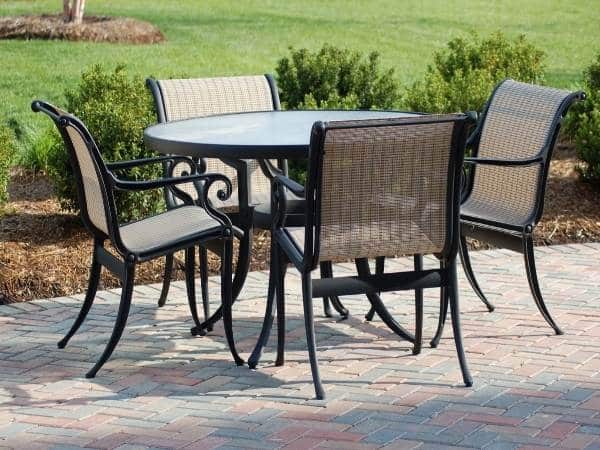 To make a fun focal point for your event, use a decorative surround and vegetables instead of sand. Moreover, Try different secondary fruit and can do them in points.
Use a simple center glass pitcher for your wedding. Fill it with seasonal flowers and fill it with sand or gravel. Set up a low-serving trading pitcher and make it a small country.
9. Use Tablescape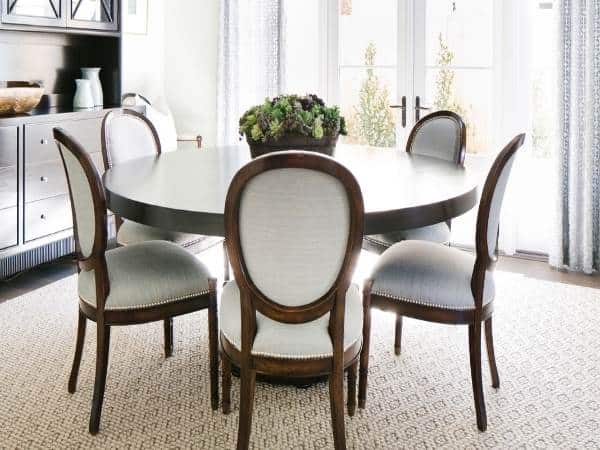 Add a whimsical touch to your dinner tablescape with a whimsical centerpiece. Tie the balloons to string and hang them from the ceiling. Use colorful crayons and tape to make a banner, then choose.
10. Color Coordinate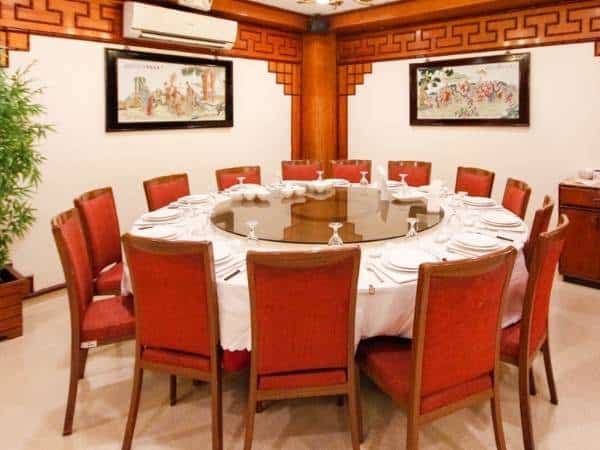 Use color if you want to create a beautiful mood. It communicates messages. There are different color schemes to choose Your favorite from, But you have to adapt them to Your event. Firstly, match the mood you want to create based on the theme of your event. Match the colors to the overall color scheme of the room when planning to use other accessories, including table decorations.
11. Pick a Cactus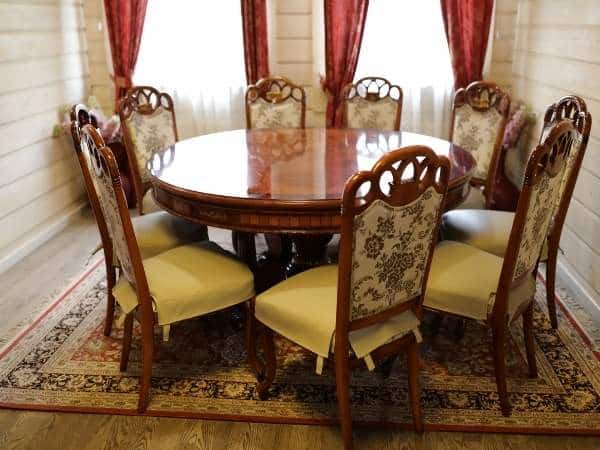 We know that plants brighten the atmosphere of the house. Not only that, if you want to get your dining system a pleasant way, you have to use some popular trees. But remember that these are not too big in size. Cactus is the most popular among them. You can combine multiple cacti if you want. Because they come in different forms. Choose to decorate a table and single cactus for a minimal look and watch that look great!
12. Get Some Candle Holders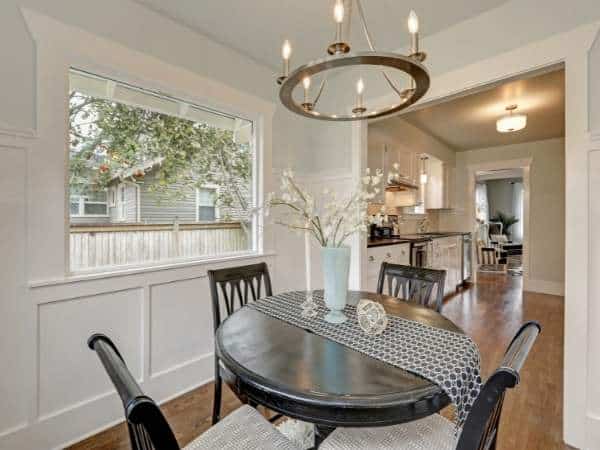 Candle holders are a classic that we cannot forget. Their style alone brings elegance to a room. Agul uses many types of candle holders because they can be placed to fit any home. Therefore, A Candle Holder can serve as a versatile piece. For example, candle holders can win your heart if you're into the rustic decor.
13. Display Colorful Fruits And Vegetables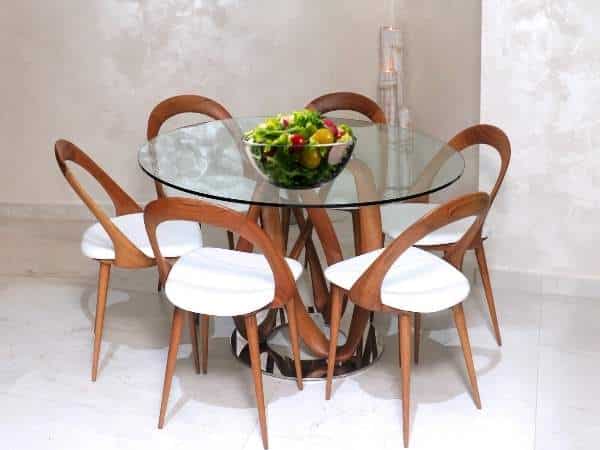 The table will look very beautiful if you arrange some colorful fruits and vegetables on it. You can combine fruits or vegetables if you want. It will also create stunning arrangements with a wide range. Use apples and oranges to start. There are also zucchini, Broccoli, Grapes, And lemons. Many times a stunning atmosphere is created with Tulsi.
In a glass vase, you can keep magnolia leaves, lavender, artichoke, or herb powder. They are a subtle arrangement that makes a lasting impression. Create a focal point with flowers, fruits, and vegetables or a mix. Also, vegetables along with different seasonal fruits make delicious system decorations.
14. Use A Table Tray To Corral Items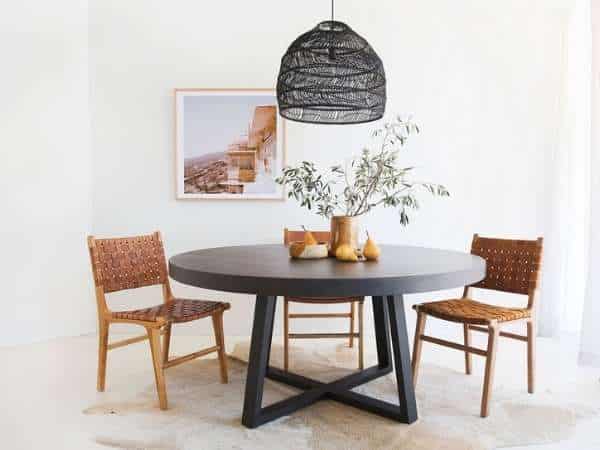 For those who want extra storage space at the table, consider adding a tray to the dining one things. Also fit: Select a tray. Trays are available in different shapes or designs. The shape is essential for you. Because you don't have enough space to take a big shape. So it will be good
Choosing a decorative tray. Because it sticks to consistent themes. Besides, the existing decoration of the room should be considered. Endless choices include trays in marble, woven or wooden materials.
15. Mix Up The Furnishings Around The Table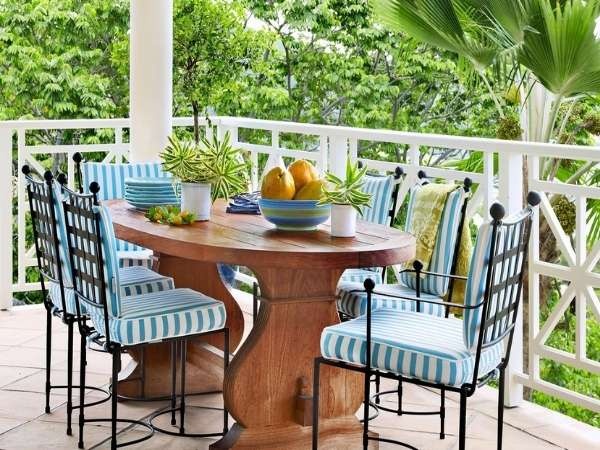 Any table should have both functional and decorative purposes. A dining table is no exception. You need to think carefully about which type of chairs are best for this type of it. It depends on your dining table and your preferences. Also, the size of it is often determined by the seating required for all guests. When choosing a chair, think about the surrounding environment.
Pine, Mahogany, and Birchwood tables are popular with everyone in home design. You can add textural depth by mixing different fabrics if you want. Use neutral tones for your chairs that are patterned and feature solid colors in the upholstery. In other words, put the color combination of multiple chairs that have fabric seating options in two or four. You can set to decorate a round dining table. several spindle chairs on it to bring a wide variety of looks. Mixing and matching chairs will look relatively simple and peaceful on everyone without a lot of pattern or texture.
16. Hanging Lamps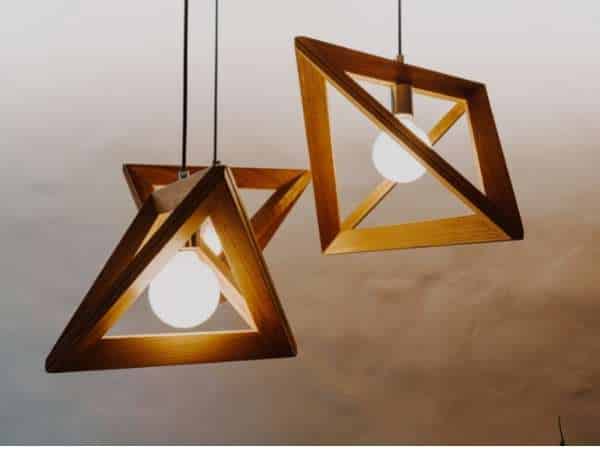 Now let's talk about light. for light, There are many options. But a dining table needs pendant lights. Hanging lamps are available in various styles and designs. It can be overwhelming the use a dining system.
You thought you could do it
What are they And How to use them or where to set them? All these questions Will be answered here. First, You need to choose the Right one for your space.
It depends on your choice.
A pendant light is a hanging light fixture that contains a lightbulb. They are available in the Market in various shapes And sizes. It can Also Be used in different ways. You can use them if you want extra light and they will give you a focal point. The Most interesting thing About pendant lights is that you can use them in different ways.
17. Round Dining Accessories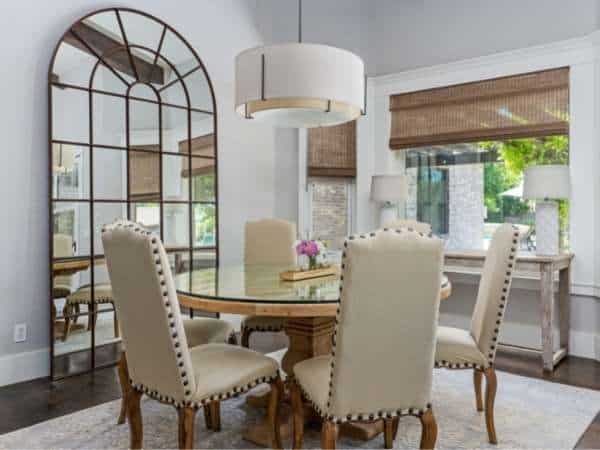 When planning your dining table accessories, be sure to cover the entire table. Small decorations are great for keeping things simple and not overwhelming your guests. Try hanging potted succulents or miniature Christmas trees throughout the space. Place candles in strategic places near it for candlelit dinners.
18. Round Dining Sideboard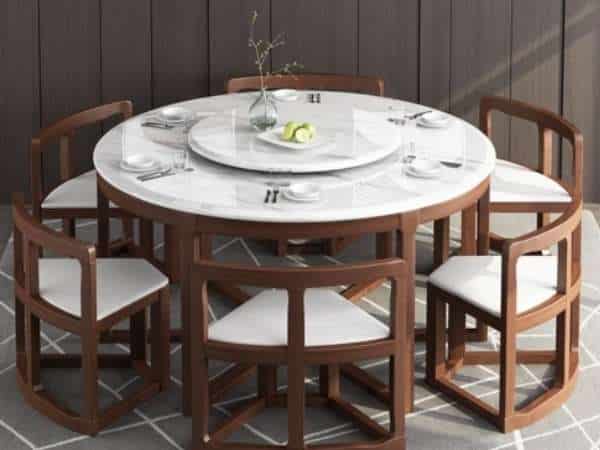 Using a round dining sideboard helps to fill in missing space, especially when the table is placed at the end of the dining room. A sideboard allows you to display family photos, books, or decorative knick-knacks. A round sideboard works well with dining tables and is perfect for small rooms.
19. Round Dining Room Decor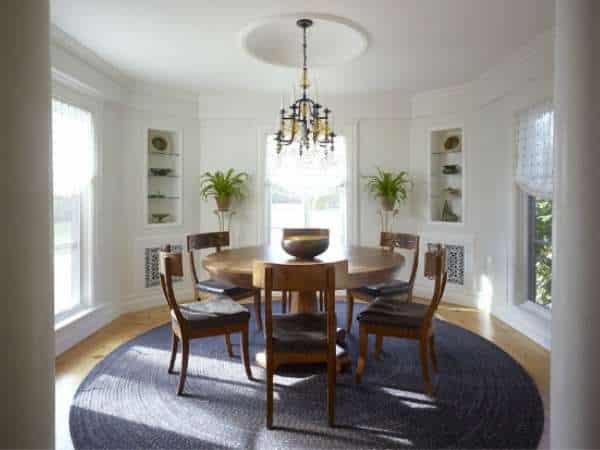 An accent wall is something that adds visual interest to A room And makes it feel larger than it actually is. An accent wall should be painted in a neutral color that blends seamlessly with the rest of the space. Accent walls are fine in some small spaces, but if you're trying to cover a large blank wall, we recommend going for a darker color instead.
20. Use A Rug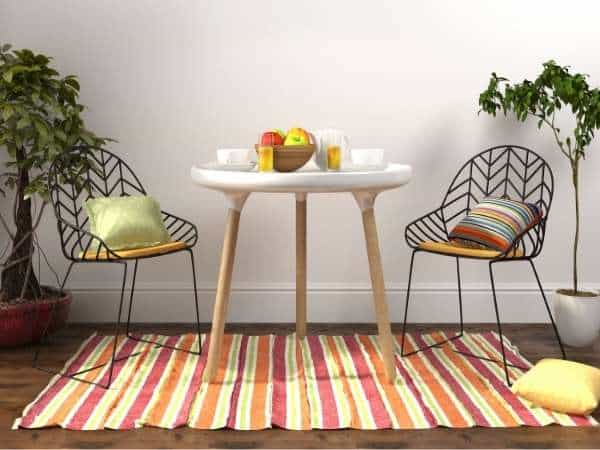 Using a rug for a round dining table can add visual interest. Adding a rug is a great way to add personality and color impact. There Are several options for finding the perfect rug for your Home. Rugs add warmth to a room thereby bringing a lot of peace to the family members.
When choosing A rug for A dining table, Pay special attention to the Size of the room And the size of the rug. This is the Most important thing Here. The size Of the room depends on Whether the Rug is big or small. But choose one that doesn't make the space look crowded or small. Also, keep enough space around it to walk comfortably. A brightly colored or patterned rug really adds personality to a room and table.
21. Add Plants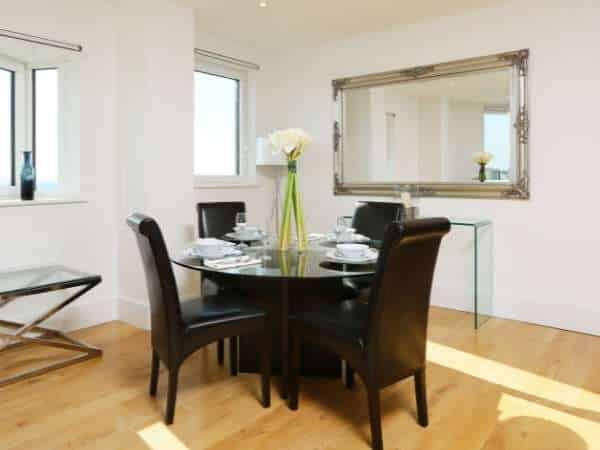 There are many different types And Sizes Of plants available that do not require much watering. They provide oxygen while adding color and texture. Besides, a circular dining it improves the atmosphere by improving the air quality. So to decorate a round dining table. and consider adding plants to the vase while decorating. Keep moving around as needed. For a pop of color, choose some flowering plants like lilies or orchids. For those who prefer greenery, Choose plants such As ivy, ferns, Or Boston ferns.
22. Combine Different Elements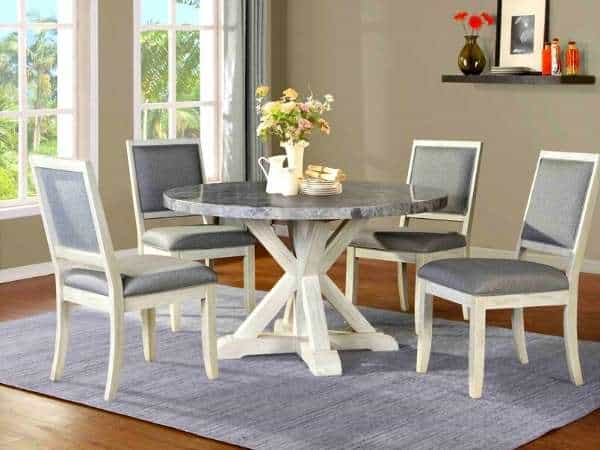 Sometimes contrasting pieces can be used to decorate the dining room table. And consider adding a repository for this. Remember to create a focal point with contrasting but complementary pieces.
Choose a homogenous color palette and it will make the space look a lot less cluttered.
Choose items that range in size by adding a texture to the decorator. Keep the colors coordinated and change your existing decor pieces depending on how you like to style them. Coordinate tape and cream paint colors and look for brassware.
Earthy elements like wooden bowls and potted ferns can be used by anyone to create a beautiful environment. Brightly colored glass vases, ceramic tableware, plant pots, along with trays, and figurines in different colors, shapes, and textures, are perfect for your dining room things.
What Are Round Dining Chairs?
If you are looking for additional seating options, dining chairs work beautifully with the size of the table. They look good in small spaces as they don't take up much floor space. Additionally, they leave plenty of open space between each chair where guests can move around easily without bumping into their neighbors.
What Is A Round Dining Set?
For those who love to entertain, a dining set provides plenty of extra space for everyone to sit comfortably. If you already own a rectangular dining table, adding a few round side chairs will give your diners a comfortable place to relax while they eat.
Why A Round Dining Table?
A round dining table is best for entertaining a small family. Can say the best choice is that the new couple of Round tables is versatile. It is good for decorating any style. You can use them in any type of room so they are great for modern times. You can find a dining things according to your needs. Because they fit different sizes and needs. Instead of looking for something unique, you choose a round pedestal dining table. Very popular nowadays which adds a touch of elegance to any room.
The Final Thought
Remember that the shape of a round table should be good because the shape is the main highlight. So choose the right one without getting too confused. You can choose a wooden or glass dining system as they give a modern feel while maintaining their classic style. It is versatile enough to fit almost Any style of interior, Whether you prefer traditional, Contemporary, Modern, Or even rustic, You can always find something that suits your taste.
A round table seems like the easiest way to make sure everything stays in place and doesn't get knocked over. You may also want to use a simple vase, bowl, or basket as a centerpiece. If you don't have any right now, you should check your local thrift store or flea market for a good find!
Hope you have understood how to decorate a round dining table and can decorate it beautifully by choosing the tips from above according to your preference.