When it comes to making the most of your living arrangements, Dividing A bedroom into two rooms is an effective way to maximize space And create more usable area. It can be daunting to tackle such A large-scale project, But with the right approach And materials, You can have an extra room in no time. In this article, We will discuss how to divide a bedroom into two rooms, From measuring up space To choosing between creating physical walls or opting for curtains.
1. Importance of Dividing a Bedroom Into Two Rooms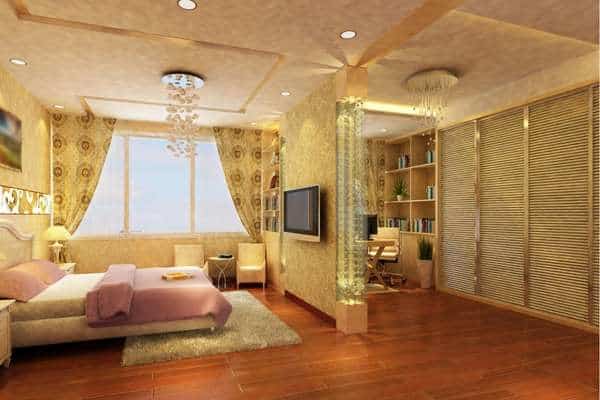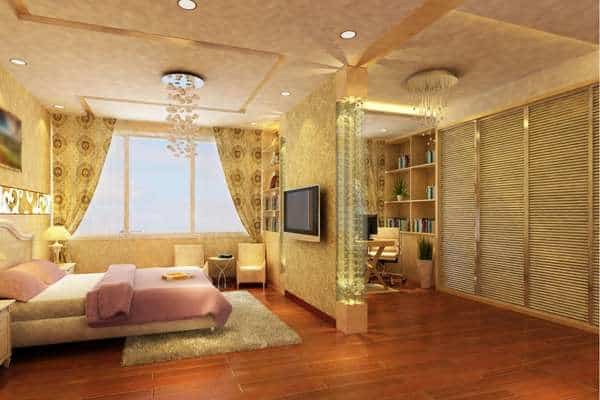 Dividing A bedroom into two rooms is an excellent way to Maximise your living space without having to move. Whether you're sharing A bedroom with A roommate or trying to create separate sleeping areas for your children, Dividing A bedroom into two rooms can Help you Achieve your goals.
One of the primary benefits of dividing A bedroom into two rooms is the added privacy it provides. With separate sleeping areas, Each person can Have their own personal space Where they feel comfortable And secure. This type of arrangement is Especially beneficial for couples Who Have different sleep schedules or individuals Who share living spaces with others.
2. Consider the size of the room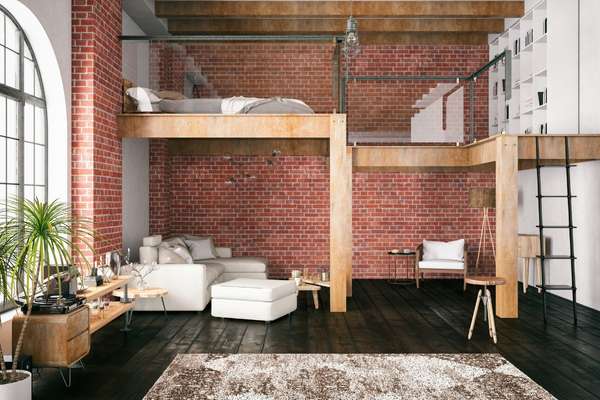 The first step in dividing A Bedroom into two rooms is to Consider the size of the room. You want to make sure that both new spaces are usable And comfortable. For example, If you have A small master bedroom, You could divide it into A sleeping area And an office or reading nook. Alternatively, If you have kids sharing A room, Dividing it into separate sleeping areas can give each child their own personal space And privacy. It's Important to keep in mind that dividing A room can be Challenging if you don't have enough square footage to work with.
3. Install a Temporary Room Divider Such As a Folding Screen or Curtain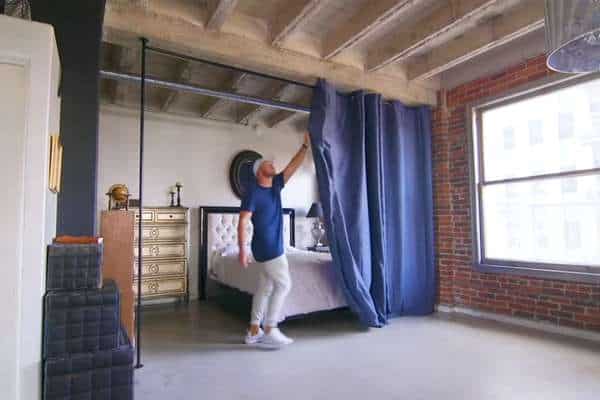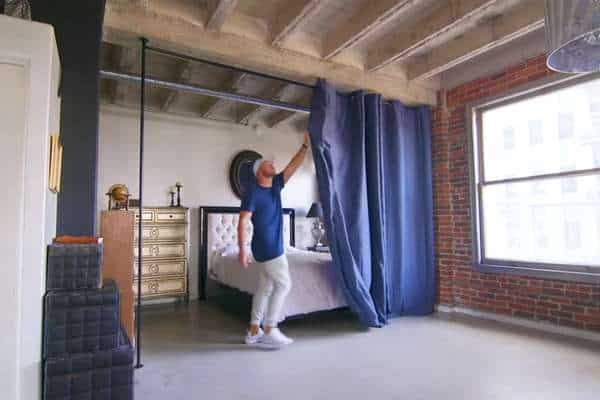 One of the biggest advantages of using A folding screen or curtain as A room divider is its versatility. Unlike permanent walls, These dividers can be moved around easily depending on your changing needs. Plus, They come in many different styles, Colours And materials So you can find one that matches your decor. When choosing A room divider, Consider the size of your space And the level of privacy you need. A floor-to-ceiling curtain might be better suited for larger rooms While A smaller folding screen could work in tighter spaces.
4. Use Soundproof Curtains or Rugs
Soundproof curtains are designed with thick materials that absorb sound waves And prevent them from passing through. They typically feature multiple layers of fabric and insulation, Which helps to block out noise from outside sources like traffic or neighbours. They also provide privacy and can be easily installed using curtain rods.
Similarly, Soundproof rugs can help to dampen sound by absorbing vibrations caused by footsteps or other activities in one room. By placing rugs strategically on the floor, you can create distinct areas within a larger space while reducing noise levels. Plus, many soundproof rugs are available in stylish designs that complement any Decor style.
5. Use a Bookshelf as Partition Wall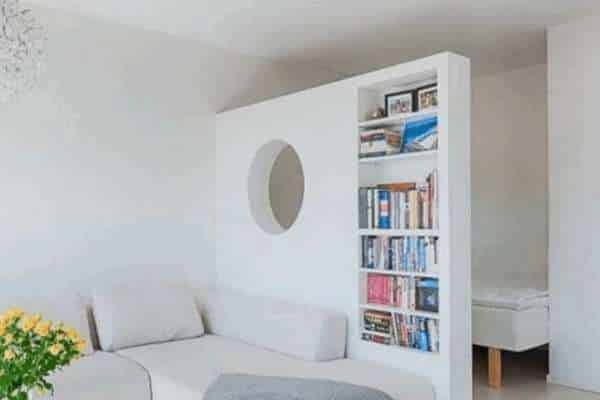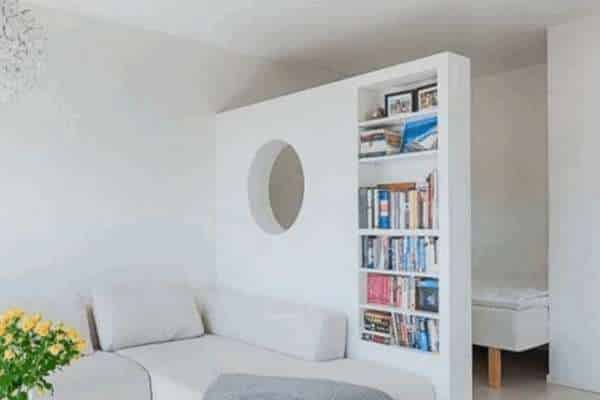 Simply select A bookshelf that is tall enough to reach from floor to ceiling. Place it in the center of your room, Positioning it so that one side faces each "room" You want to create. If your Bookshelf has An open back, Consider covering it with fabric or wallpaper For added privacy. Once your bookshelf is in place, Start filling it with books, Decorative objects, And storage containers. This will not only Help create visual interest on both sides of the partition But Also Add Functional storage space to your room.
6. Hang a Sliding Door Divider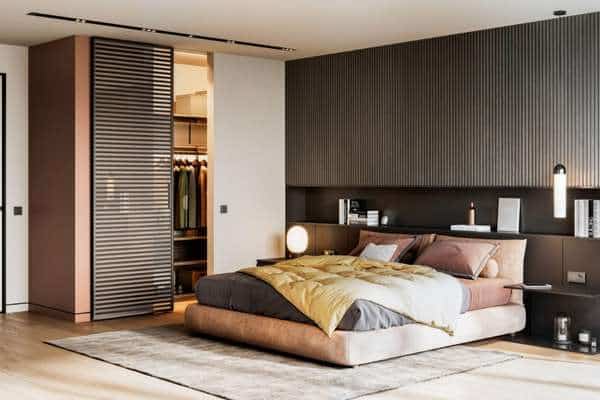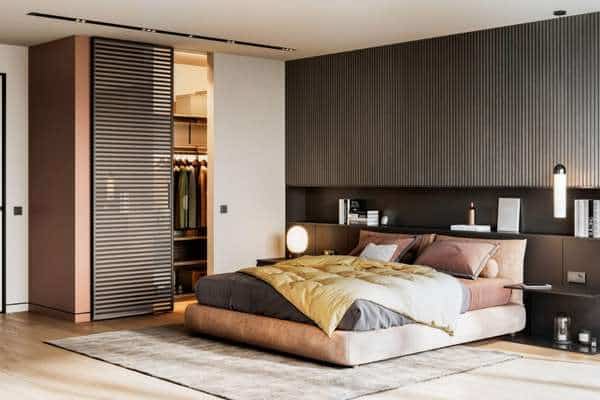 Installation of a sliding door divider is fairly simple And can be done over the weekend. First, Measure the width And height of the space Where you want to install the divider. Then, purchase a sliding door kit that fits those measurements. Next, attach the track to the ceiling or wall where you want to hang the door. Once that is secured, attach the rollers onto the top of your door, slide them onto the track, and voila! You have successfully divided your room with ease. A sliding door divider not only adds functionality but also style.
7. Build a Temporary Wall with Studs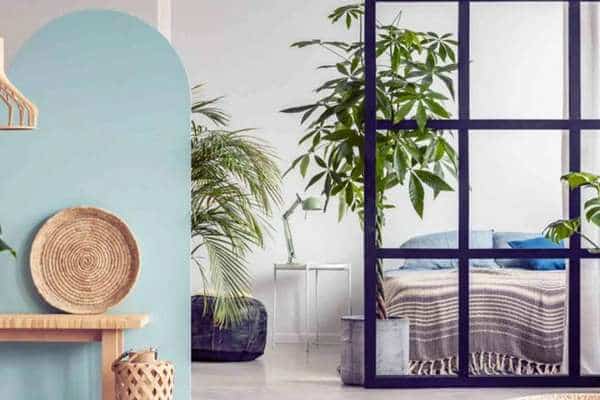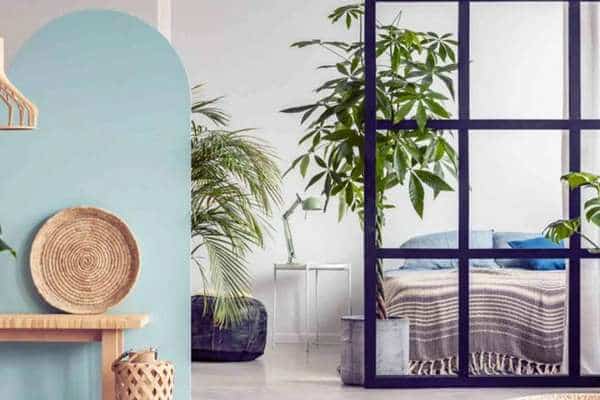 It's essential to measure the area Where you want to place the temporary wall. Make sure you Have All the necessary tools And materials on hand, Including lumber studs, Drywall panels, Screws, Nails, And insulation if required. Once you Have everything ready, Follow these simple steps: Determine where you want to position your new wall; Mark out its location using chalk lines or tape measure; Attach horizontal plates at both ends of Where your new wall Will sit By screwing them into floor joists or foundation walls.
8. Place a Tall Dresser in Between
A tall dresser can act as A natural partition for your room, Breaking up the space while still allowing light And air to flow freely. It's perfect for creating distinct sleeping And dressing zones, Or even separating workspaces from relaxation areas. Plus, Having extra storage will always come in handy when trying to keep your bedroom organized And clutter-free. When choosing a tall dresser to divide your bedroom, Consider its height And width in relation to the size of your room. You'll want something that's proportionate with your space without overwhelming it.
9. Use a Room Divider Screen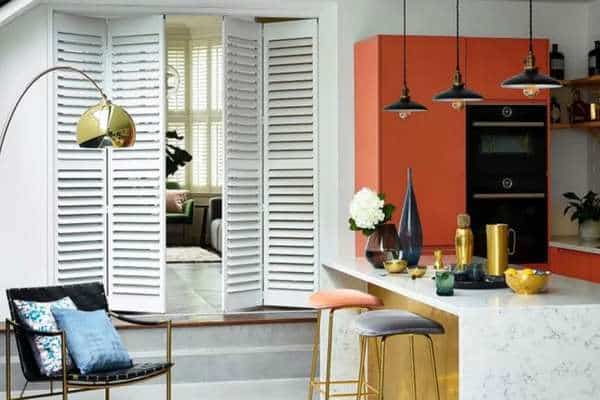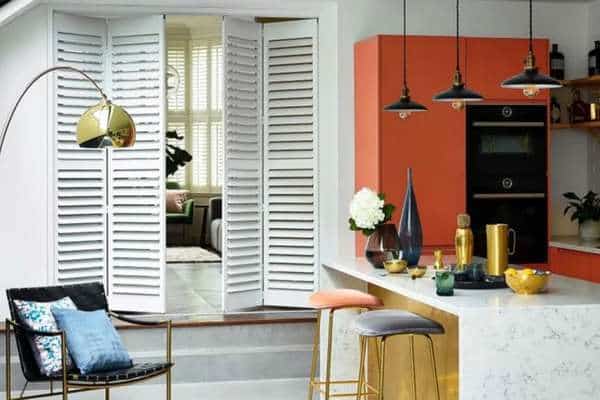 Using a room divider screen can be an excellent way to divide a bedroom into two rooms, creating additional living space without having to build new walls. They are also easy to move or adjust, which makes them an inexpensive and versatile solution for anyone who wants to create more privacy or separation within their home.
One popular way to use a room divider screen is in a shared bedroom where siblings may need separate areas for playing or studying. A simple divider screen can split the space into two zones while still giving each child enough personal space. Another common use for room dividers is in studio apartments where residents want to create separate sleeping and living areas without sacrificing natural light or open floor plans.
10. Consistently Create Separate Seating Areas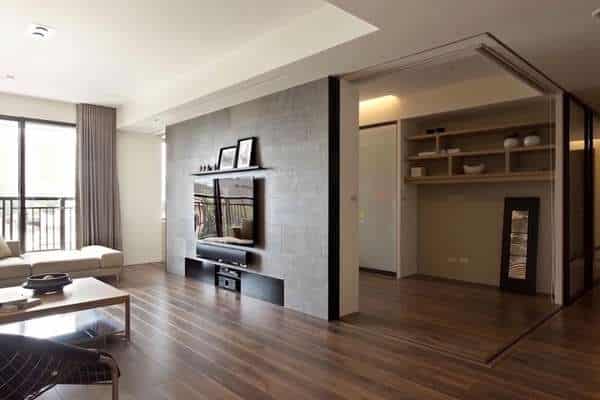 Dividing A bedroom into two rooms can be A great way to create more functional space in your home. By creating separate seating areas, You can easily accommodate different activities such as reading, Watching TV or even working from home.
One of the most effective ways to create separate seating areas is by using furniture layout And placement. You can use area rugs, Sofas And chairs in various configurations to break up larger spaces into smaller zones. If you have A large bedroom, For instance, You could place one sofa on one side of the room And another sofa on the opposite side facing each other with A coffee table in between.
11. Use Shelves As a Room Divider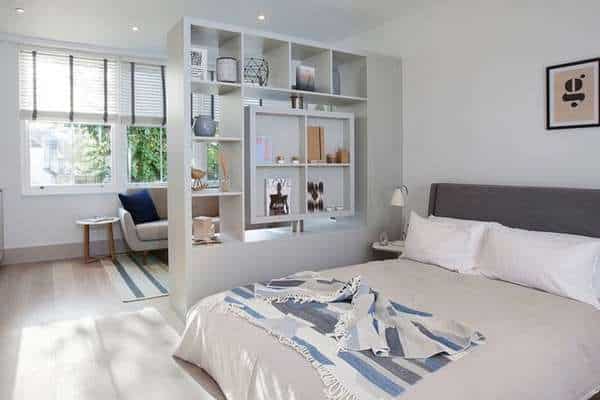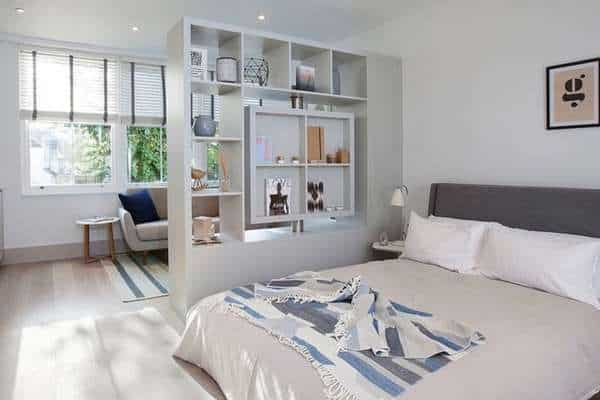 When it comes to dividing a bedroom, Using shelves provides privacy without sacrificing natural light or airflow. You can place tall bookcases or open shelving units between the bed And the rest of the space, Creating separate sleeping And relaxation areas. Additionally, Adding storage baskets or decorative boxes on the shelves can help keep clutter at bay, Giving each section of the divided room its own unique purpose.
One creative idea is to use floating shelves As dividers for An open-concept studio apartment. These minimalist structures are ideal for separating different sections of your home without blocking any views or disrupting traffic flow.
12. Choose a Complement Colour Scheme for Each Space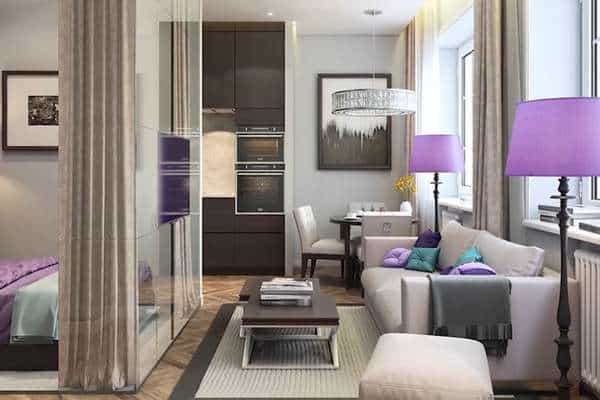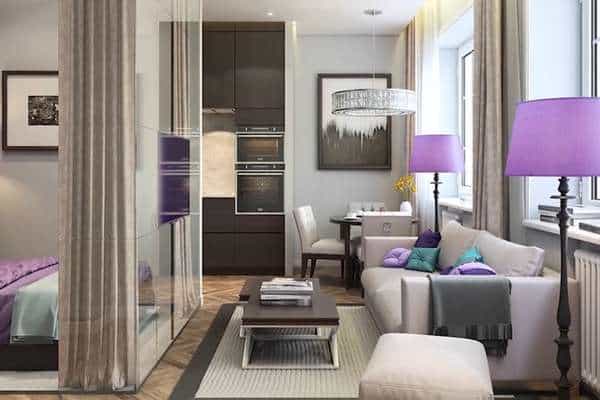 One strategy is to choose complementary colours that are opposite each other on the colour wheel, Such as blue And orange or purple And yellow. These contrasting colours can create an energetic And dynamic feel in A room, Which could be perfect for A study or home office area. On the other hand, If you want one room to have A calming atmosphere while the other has an invigorating feel, You may want to opt for analogous colours that sit next to each other on the colour wheel. For example, Green And blue or pink And purple could create A soothing effect in one room While yellow And orange could add some energy to another.
13. Use Different Lighting for Each Space to Create Ambiance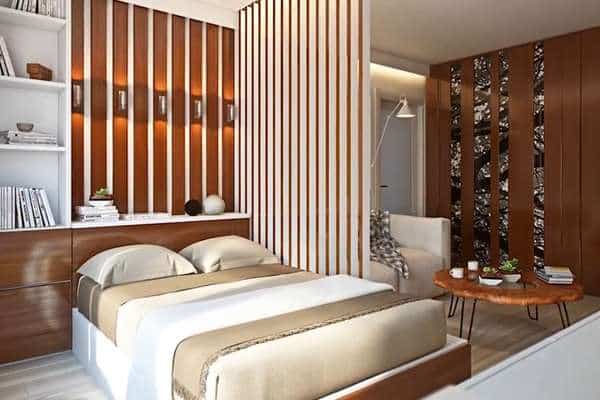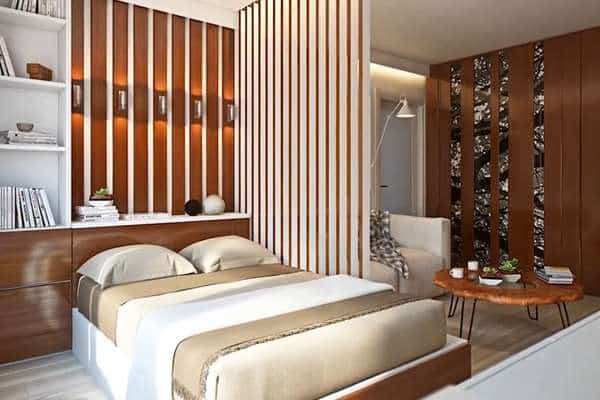 Dividing A bedroom into two rooms with different lighting can be achieved in several ways. You can install A partition wall that separates the room into two sections, Each with its own access to light fixtures. Alternatively, You can use curtains or screens to create separate zones that each have their own unique lighting.
When dividing your bedroom into two spaces, Consider the function of each area. For example, One area might be used as A workspace While the other is reserved for relaxation And sleep. Use task lighting such as desk lamps or overhead lights in the work area to ensure sufficient illumination for reading or working on projects.
14. Consider the Placement of Windows for Natural Light
By dividing your Bedroom into two separate spaces with A partition wall, You're creating an opportunity to introduce more windows into your home design. Depending on how you choose to divide the room, You may even have the chance to add windows Where they were previously not possible due to furniture placement or other obstacles. The addition of new windows will help flood both rooms with natural light And create A bright And airy atmosphere that's sure to lift your spirits.
15. Ensure that Each Space is Functional and Comfortable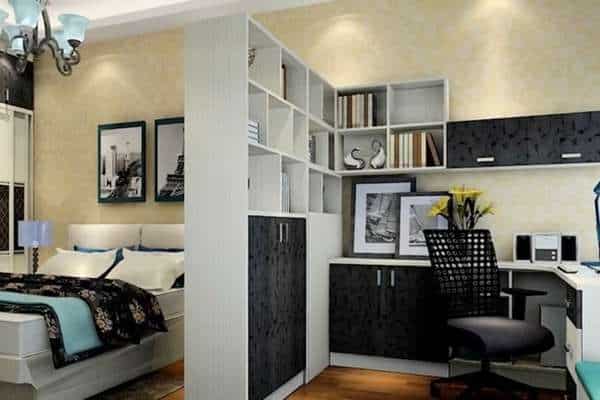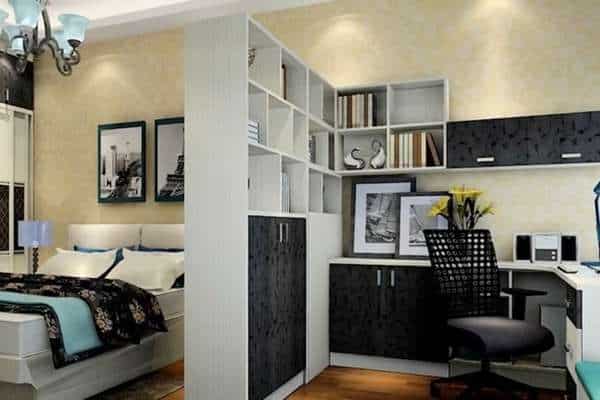 When it comes to creating A comfortable And functional living space, Dividing A bedroom into two separate rooms can be an excellent solution. Whether you live in A small studio apartment or have A large master suite that needs some reconfiguring, there are several ways to divide your bedroom into two distinct spaces.
One option is to use room dividers or screens, Which come in various styles And materials such as wood, metal, or fabric. These dividers allow you to create separate areas within A single room without making permanent changes like installing walls. Another alternative is using furniture placement to divide the space. For example, Placing A bookcase or wardrobe perpendicular to the wall can act as both storage And division between two sides of the room.
Conclusion
Dividing A bedroom into two rooms is an easy And affordable way to Maximise space in your home. Whether you are looking for additional living space, A workspace, Or just more privacy, Dividing A bedroom can help meet all these needs. With the right planning And execution, It can be done in A weekend with minimal disruption. Be sure to consider the layout of the room, Local building codes, And any other factors that could affect the project before beginning.